As patients and caregivers consume more digital healthcare information and data, they have increasingly higher expectations for preventative care, wellness, diagnosis, treatment and disease management. Healthcare organizations constantly look for new opportunities to make the promise of Health IT transformation a reality, and look for new efficiencies in workflows to enhance patient-caregiver collaboration and fuel data driven decision making.
Precision engagement fosters this transition from 'all-purpose' healthcare to an approach that considers the unique needs of each patient, and gives medical professionals the tools to meet them.
PX Solutions

is Dedicated to

Canadian Healthcare
Our Team
We specialize in cultural and clinical process transformations in healthcare with innovative health technology and healthcare IT solutions that improve workflows, access to care and quality of service.
Our Vision
To bring about a future in which healthcare stakeholders across the continuum of care can respond to patients more effectively and efficiently, with innovative healthcare solutions, and continue to improve care and the care experience.
Better Together
Our in-house team of experienced healthcare professionals and partnerships with leading healthcare IT and application developers lets us create and offer a full suite of applications, services and infrastructure to help you achieve your organization's goals.
PX Solutions
PX Solutions offers technologies and solutions to achieve better outcomes for Healthcare in Canada. PX Solutions brings leading-edge products, software, infrastructure and services functioning together to connect the patients, families and clinicians along the patient's healthcare journey.
Prioritize Customer/Patient Experience
Place the customer at the forefront of every decision and action, we ensure their needs, preferences and emotions guide all the interactions and processes to create a consistently outstanding customer/patient experience
Promote a Safety and Risk Management Culture
Build actionable risk management plans and foster a fit for purpose health and safety environment.
Embrace Continuous Improvement
Leading through action, we encourage innovation and continuous advancement while adhering to effective workflows, pre-defined SOPs and providing exceptional results.
Empower Collaborative Autonomy
Operating with a sense of urgency, we use data-driven insights, communicate transparently and empower each team member to make informed decisions while holding all of us accountable.
Champion Social Integrity
Embrace diversity, equity and inclusion, we stand united in a diverse environment through transparency in communication, while maintaining unwavering integrity in all actions.
PX Solutions fosters a secure and flexible work environment for a diversified team, led by engaged and thoughtful leadership. We are committed to actively seeking opportunities to make meaningful contributions to our community, utilizing brilliant minds that listen attentively, seek clarifications and embrace open-minded thinking, ultimately leading to the generation of innovative ideas.
Woodstock Hospital is committed to its vision of providing first-class healthcare to our community. To fulfill our mandate, we need to be a leader in innovative, high-quality services and keep a pulse on the latest healthcare tools and technology. The Cisco Medical-Grade Network offers the infrastructure we need to provide our staff with the equipment and information they need to facilitate patient care and deliver the best health services possible.
Natasa Veljovic – President and CEO, Woodstock Hospital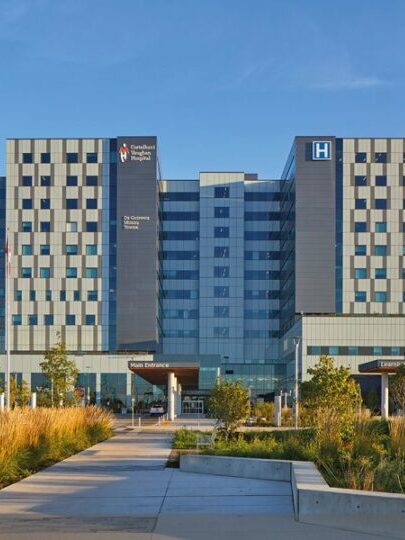 This exciting announcement is a key step forward on our 'smart' hospital vision and ensuring we're providing our community with exceptional health care that makes a significant difference. Patient-centred technology helps health care providers create a seamless care experience, all the while supporting recovery and education right at the bedside.
Mary-Agnes Wilson – Executive Vice President, Chief Operating Officer and Chief Nursing Executive, Mackenzie Health
One of the biggest opportunities with this technology solution is the level of control and independence we can give directly to patients. The 'smart' pathways and intelligence we're building into this technology will unlock a world of choice for all patients and families.
Richard Tam – Executive Vice President and Chief Administrative Officer, Mackenzie Health
Medication education is an important component in helping patients, family members, and caregivers understand and comply with their healing process, particularly for our senior population. Our patients tell us that Interactive Patient Care has been beneficial toward their understanding of new medications, potential side effects and how to maintain proper usage post discharge.
Nurse Manager
With the generous contribution of Cisco TelePresence technologies, and the professional integration of this complex platform and network, we not only receive high-quality video to facilitate face-to-face communication, but also an integrated solution that ensures a reliable, consistent experience for all users.
Neve Peric – Vice President, Operations, CIGI
The future of healthcare is changing and our vision for the new Sault Area Hospital was to lead that change. With tremendous support from the government and our technology partners, we are delighted to have built this leading edge facility for Northern Ontario. The expertise of our partners has allowed us to build future-proof networking technology from the blueprint level, helping us to deliver new and innovative services to our patients, clinical staff and community.
Jeff Weeks – CIO, Sault Area Hospital